BellHawk Real-Time Work-in-Process Tracking Capabilities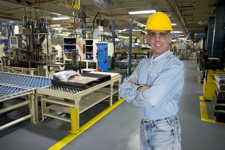 BellHawk real-time work-in-process and inventory tracking systems track the transformation of raw materials into intermediate materials and then into finished goods through manufacturing processes as well as food, and pharmaceutical processing, and other industrial processes. These work-in-process tracking systems can also track the testing, repair and refurbishment of equipment as well as operations such as design, purchasing, kitting, assembly, repacking, and labeling of products.
Capabilities of the BellHawk for work-in-process tracking include:
Tracking the transformation of materials from raw materials to finished products.
Tracking work-in-process materials as they flow from production operation to operation
Tracking labor consumed by individuals and teams on each operation for each work order
Tracking materials consumed from stock on each operation of each work order
Tracking depletion of floor stock based on back-flushing as Work-in-Process is reported out from each operation.
Tracking set-up, run, down, and cleanup time for equipment and machines
Tracking scrap and rework, plus secondary materials produced by operations.
Tracking raw materials returned to inventory from jobs.
Tracking the quality control status of raw materials, Work-in-Process and finished goods.
Capturing materials traceability and defect prevention data.
Tracking work-in-process by lot and serial numbers, including tracking which materials went into each unit or batch.
Preventing mistakes by providing point-of-actions warnings when the wrong materials are about to be used for a work order operation.
BellHawk work-in-process tracking systems can be used on a stand-alone basis or can automatically exchange data with ERP, accounting, computer aided design, materials requirements planning, and formula management systems.
BellHawk work-in-process tracking systems range from simple Work-in-Process and Labor Tracking Systems that track the progress of batches of materials through a sequence of operations to complex Real-Time Production and Materials Tracking Systems that track the real-time flow of materials through a sequence of operations such as mixing, converting, molding, machining, cutting, assembly, testing, and packing.
With optional features such as scheduling and materials planning these systems become fully functional manufacturing execution systems and manufacturing operations management systems.
With the addition of the optional Purchase Order, Ship Order, and Picking modules BellHawk becomes a full integrated real-time MES plus WMS (Warehouse Management System) operations tracking and management system.
Please click on the following links to learn more about the Capabilities of the BellHawk Software: